Straight Wire Drawing Machine
Product Detail
Product Tags
The feature of the straight wire machine is the steel wire wrapped around the block of a certain height and then enters to the next drawing die, wrapped on the next block. There is no pulley, guide roller or tension roller in between, the steel wire runs for a straight line of the blocks, which reduces the wire bending in the process of wire drawing. Besides, there will be back tension in drawing which is able to reduce the drawing force, reduce the wear of drawing and prolong use life of the die, reduce power consumption and other advantages.
Introduction of product operation steps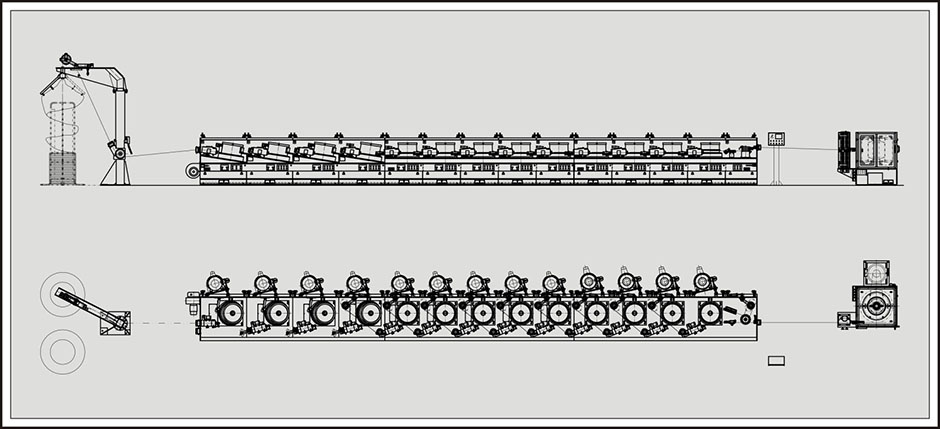 It applies to drawing spring steel wires, bead wire, steel wires for ropes, optical fiber steel wires, CO2 shield welding wires, a flux-cored electrode for arc welding, alloy stainless steel wires, and aluminum clad wires, pc steel wires, and so on.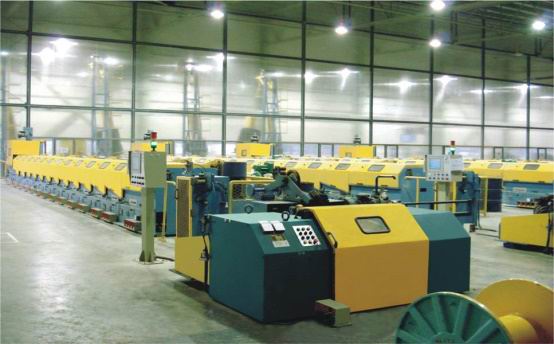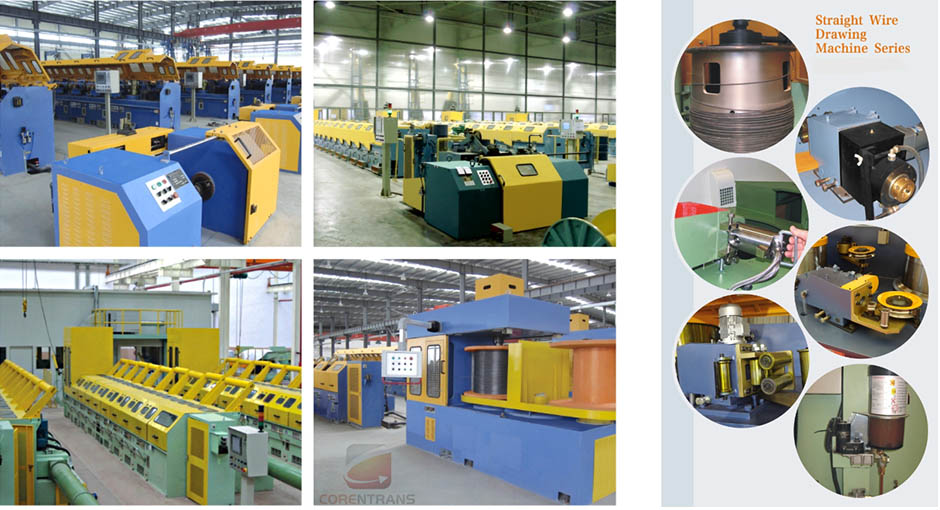 Straight wire drawing machine is a high-speed wire drawing machine. Its main features are that the drum adopts narrow slot type water cool, which has good cool effect; it adopts the first-class strong narrow V-belt and the first-class plane double enveloping worm gear pair for high transmission efficiency and low noise; the fully enclosed protection system has good safety; the air tension tuning is adopted to ensure stable drawing.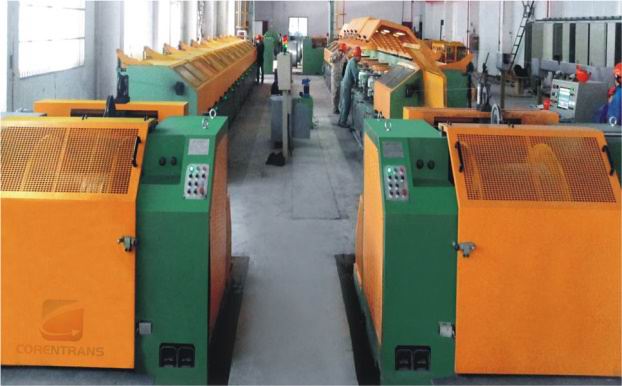 Straight Wire Drawing MachineTechnical Parameters

Model(block diameter) mm

200

300

350

400

450

500

560

600

700

800

900

1200

Strength of inlet wire/MPa

≤1350

Number of block

2~14

2~14

2~14

2~14

2~12

2~12

2~12

2~12

2~9

2~9

2~9

2~9

Max. diameter of inlet wire (mm)

1

2.8

3.5

4.2

5

5.5

6.5

8

10

12.7

14

16

Min. diameter of outlet wire(mm)

0.1

0.5

0.6

0.75

1

1.2

1.4

1.6

2.2

2.6

3

5

Max drawing speed( m/s)

~25

~25

~20

~20

~16

~15

~15

~12

~12

~8

~7

~6

Drawing power(kw)

5.5~11

7.5~18.5

11~22

11~30

15~37

22~45

22~55

30~75

45~90

55~110

90~132

110~160

Transportation system

Two grade belt transmission; double enveloping worm wheels; gearbox with hard tooth surface

Way of speed adjusting

AC Frequency conversion speed adjusting or DC speed adjusting

Way of control

Profibus field bus control system, touching screen show,

human-computer communication, long-distance diagnose function

Way of pay-off

Spooler pay-off, high pay-off frame,"—"type pay-off,

duck-nip pay-off without stop work

Way of take-up

Spooler take-upstroke take-up, headstand take-up, and all can take-up wire without stop work

Main function

Slowdown to stop at fixed length automatically, wire broken test and stop work automatically,

cut off any block to compose new technical process freely,

slowdown to stop automatically when the protecting shield is open,

show of all kinds of fault information and the solution,

inspection and control of all kinds of running information

Material that can be drawn

Steel wire(high, middle, low carbon steel wire, stainless steel wire,

pre-tension steel wire, bead wire, rubber tube wire,

spring steel wire, code wire and so on),

welding wire(air protect welding wire, submerged arc welding wire, flux cored wire and so on )

electric wire and cable(Aluminum-clad steel wire, copper wire, aluminum wire and so on)

alloy wire and other kinds of metal wire

Notes: all the parameters might be changed according to the actual situation

 

 

 

 

 

 
---
Previous:
Guard Rail Roll Forming Machine
---